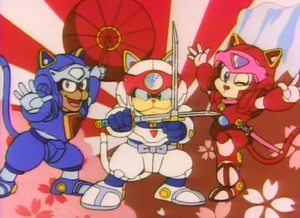 Welcome to Samurai Pizza Cats Wiki
Samurai Pizza Cats was originally made by Tatsunoko Studios in Japan as "Kyattou Ninden Teyandee". Saban bought the rights to dub the show, and has made English, French, German, Spanish, and Hebrew dubs. The dubbed version, "Samurai Pizza Cats" was produced by Andy Thomas.
The stars of the show are three anthropomorphic cats who protect the city of Little Tokyo from crime while making a living running a pizzeria
Series info
Pizza Cats
Pizza Cats weapons
More about Pizza Cats
Other good guys
Pizza Cats colleagues in New York
Villains
Locations
Ad blocker interference detected!
Wikia is a free-to-use site that makes money from advertising. We have a modified experience for viewers using ad blockers

Wikia is not accessible if you've made further modifications. Remove the custom ad blocker rule(s) and the page will load as expected.